If you've ever deleted a file from your computer, then you know how inconvenient it can be to try and recover it. There are a few ways that you can try to recover deleted files, but the free and easiest way is to use a data recovery software.
Data recovery softwares are able to scan your computer for any lost or corrupted files and restore them onto your computer. This means that even if the file has been permanently deleted, the data recovery softwares can usually recover it.
Free and Easiest Way to Recover Your Deleted Files From Your Computer.
There are several different data recovery softwares are available in the market, so it's important to choose one that's compatible with your operating system and type of files. Fortunately, there is a free and easy way to recover your deleted files from your computer.
The best way to do this is by using a data recovery software like Recuva. This software can scan your hard drive for any lost or deleted files, and it will then let you retrieve them with just a few simple steps.
What Is Recuva And How To Download It?
Recuva is a Free and reliable file recovery software that can help you to recover Your deleted files from both Windows and Mac computers. It also has a user-friendly interface, so it's easy to use even if you're not technically savvy.
Recuva is available as a free download from the official website, so there's no reason not to try it out if you've ever lost any files on your computer.
In order to download this software absolutely Free, first of all You needs to Go To the Official website of Recuva that is https://www.ccleaner.com/recuva/download or simply click Here in order to reach to the official website, otherwise click on the download Button below in order to directly download the Setup File.
Ways To Recover or Restore Your Deleted Files Using Recuva?
There are a few things that you need to keep in mind while recovering your files this will help if something goes wrong and you need to restore your data. Once you have done this, you can start the recovery process by using one of the available file recovery software options.
The first thing you need to do is to back up your files – You Make sure that the files are properly backed up and stored in a safe place like external Hard Disk or Pendrive.
Try not to restart your computer after doing the recovery process, as this may damage or delete some of your files.
Make sure that you choose the correct file recovery option for your situation.
Be patient – it may take some time for the file recovery software to find and recover all of your lost data.
Now Follow The steps Given Below In order to Recover Your Deleted Files
Step 1- The first step is to download and Install Recuva Software in Your Computer. If Your Don't know "How To Install any Software in the PC" then Follow The Instructions which are given below through Image.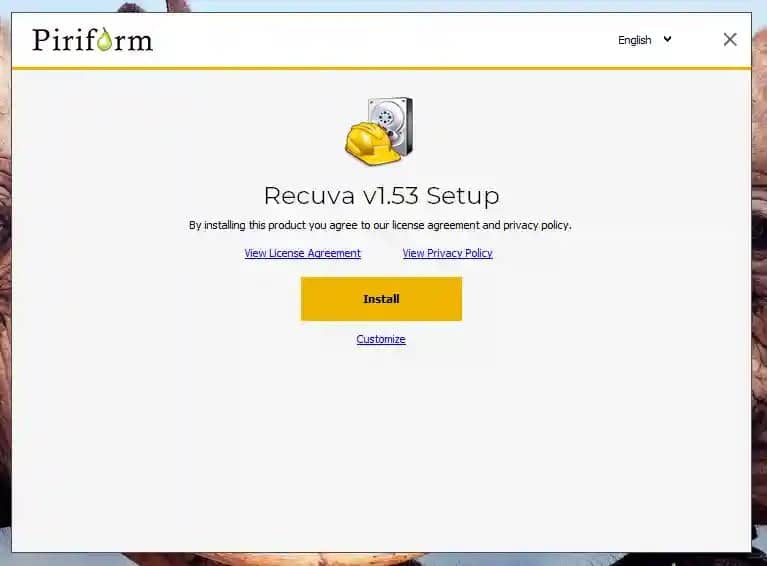 Step 2- Once the Recuva Software successfully installed in Your Computer then run or open the Recuva Software. After Running the Software You'll get an interference like the Given Below Image.
Step 3- Now You'll get a Lots of options For Files Recovery Like-
All Files
Pictures
Music
Documents
Videos
Compressed
E-mails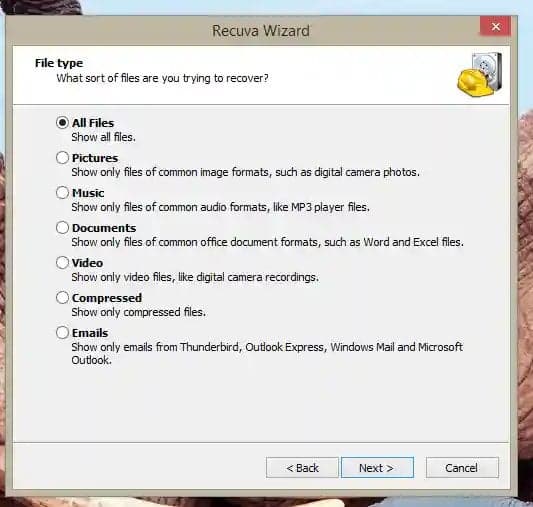 Now Select the required file Format that you wants to recover. Then Click on Next Tab.
Step 4- Now a new Window will be opened, where you have to Select your Location from where you wants to recover Your Deleted Files. If you don't know the Location of deleted file then select " I Don't know". Then Click On Next.
Step 5- Now a New Window will be opened again, you have to check Deep Scan then Click On Start.
Step 6- After Clicking On Start, the Recuva Software Will start scanning Your Computer, You can also see there Time Remaining, File Recovered And many others. After a Couples of Minutes the software Will scanned all Your deleted files and now it is Ready to be Recovered.
Step 7- After 100% Scanning Your Results Will be on your Screen. You Can See Your All Deleted Files and Media. You can also look the preview of that file, in orders to Look that your have to simply click on Switch to Advance Mode, which is located at top most right hand side corner.
Step 8- Now Click on the Check Box Icon of that file or Folder that you Wants to Recover. You can also select all Files. After Selecting the File Simply Click on Recover Bottoms.
Step 9- Now it'll ask to select your location where you Wants to Store the Recovered File. After the Selecting the location, Recuva Software Will start Recovering Your Files in the Location that you Had Provided.
By This Way you can easily Recover Your Deleted Files From Your Computer.
Also Read
Conclusion
There you have it. After reading this article, you now know how quick and easy it is to recover your deleted files with File Recuva. The program easily scans the hard drive for deleted files and offers list of options about where to save them again. On top of that, the software does not need any account credentials to login.
All you need to do is click on run process to get started from where you left off before deleting a file! It takes just a few minutes for the software to finish its job and offer back all your lost data in an organized manner.
This time around, try using Recuva if you are really sure whether what happened was due some accident or your intention all along!
Some Important Key Points
This Software Will work better no other files are Overwritten There with another Files.
Frequently Asked Questions
Can Recuva Recovers All Files?
Recuva can recover all files, but depending on the file type and condition, it may not be able to recover everything. If you're unsure if it will be able to recover your files, we recommend you to do this Recovery Process by Command Prompt.
Does Recuva have a limit?
Recuva is a powerful data recovery software that can help you to recover lost files from your computer. However, it does have a limit in terms of the number of files that it can restore at one time. This means that if you have a large amount of data that needs to be recovered, Recuva may not be able to fully satisfy your needs. In these cases, you might need to consider other options like Buy Pro Plan or You needs to Upgrade Your Software.
Does Recuva really work?
Recuva is a popular data recovery software that has been around for many years, and it appears to be largely effective. A study by PCWorld in 2018 found that Recuva was able to recover files from 86% of tested computers. Furthermore, the majority of users (78%) were satisfied with the results.
While there are certainly cases where Recuva fails to recover files, these instances are relatively rare. In general, if your computer contains valuable information or photos, then it is one of the Best Data Recovery Software in order to recover Your deleted files From Your Computer.
Can Recuva steal your data?
Yes, Recuva can potentially steal your data. This software is designed to help you recover lost files from different types of storage media, including hard drives and optical discs. In order to do this, it scans the relevant areas of the disk for lost files and attempts to restore them onto your computer or other device. If Recuva encounters any sensitive information (such as passwords or credit card numbers), it will usually prompt you for permission before proceeding. However, there are a few cases where Recuva has been known to bypass these safeguards and access unsaved data without user consent.
As such, it is important to be aware of the risks involved when using this software and ensure that you understand what rights you're granting it by clicking through all the displayed prompts. Additionally, be sure not to store any personal information on removable devices that are accessible remotely via USB ports or file sharing services like Dropbox®!
Is Recuva fully free?
While Recuva is free to use for the first time, you will need to pay a subscription fee if you want to continue using it. This fee varies depending on your location and the features that you want access to. However, even with the subscription cost, Recuva still offers some great benefits over other data recovery tools.
First of all, unlike many other data recovery tools, which require users to scan their entire computer in order to retrieve lost files, Recuva can recover lost files from anywhere on your hard drive- even if they are hidden or encrypted. Secondly,Recuva allows users to preview recovered files before actually recovering them operationally saving valuable time and energy. And lastly and most importantly for those who have experienced major data loss incidents like Hurricane Harvey or natural disasters alike; due its cross-platform compatibility and Universal Binary support ( Windows 10),RecuVA is able not only help restore deleted folders but also corrupt/lost partitions as well!
Does Recuva Deep scan work?
Yes, Recuva Deep scan does work. It is a popular software that helps to recover deleted files and data from external hard drives, CDs, DVDs, solid state drives (SSDs), or any other storage device.
Who owns Recuva?
Recuva is a software program that helps people to recover deleted files from their computer. It was originally developed by Piriform, and the company behind it is called Recuva Limited.
Can Recuva recover files from phone?
Yes, Recuva can recover files from a phone. This software is often used to retrieve deleted files, pictures, music, and other types of data that were accidentally lost or erased. In some cases it may also be able to restore access to Locked Files.
Recuva works by scanning the hard drive for any traces of the file and then restoring it if possible. It is important to note that this process can take time depending on the size and complexity of the file being recovered.
Can you run Recuva from a USB?
Yes, you can run Recuva from a USB. This program is often used to remove deleted files and data from hard drives. It has a number of features that make it an effective tool for recovering lost files, including the ability to preview your recovered files before recovery begins.
What happens to permanently deleted files?
Files that are permanently deleted are not actually gone. They're just hidden from view. Deleting a file using the Windows File Explorer does not actually delete it; instead, it marks it as "deleted." If you need to access or modify the file later, you will first have to search for and then select the "deleted" item. Once you've retrieved and opened the file, its data will be visible (but randomised).
If you want to completely remove a file from your computer's hard drive without any chance of recovery, use Delete on an undeletable volume (this cannot be undone), format disk(s), or wipe operating system Gone!
How much does Recuva cost?
Recuva is a popular program that can help you to recover deleted files and photos. The price of Recuva will vary depending on where you live, but it is usually around $50 per year. This may seem like a high price tag, but considering the fact that this program can potentially save your business thousands of dollars in legal fees, it might be worth the investment.
Recovering lost data often requires professional assistance from a data recovery specialist. Without proper tools and training, chances are good that your efforts will only lead to frustration and disappointment. With Recuva at your disposal, however, recovering lost information becomes much easier and faster. In many cases, files can be recovered completely without spending a single penny additional than necessary!