AIM: CYTOCHEMICAL DEMONSTRATION OF TOTAL PROTEINS BY MERCURIC BROMOPHENOL BLUE.
MATERIAL REQUIRED:
Biological: Slides prefixed with squamous epithelial cells (source – cheek cells) in Carnoy's fixative (Ethanol: Glacial acetic acid = 3:1),
Chemical: Carnoy's fixative, Mercuric Bromophenol Blue stain, Coplin jars, Dehydrating agent i.e. alcohol (30%, 50%, 70%, 90% and absolute), Xylene (i.e. clearing agent), DPX (i.e. Distrene Plasticiser Xylene as mounting media), coverslips, distilled water, forceps, needle, microscope, toothpicks, tap water, droppers, and beakers.
THEORY:
Proteins are the most important constituent of living cells. They are the polymers of twenty amino acids arranged in different sequences by way of the peptide bond (Figure 2 and 3). A protein molecule at its isoelectric point has a net charge of 'zero' due to the balance of both the positive and the negative charge between dissociated acidic and basic groups of the constituent amino acids. In this stage of dissociation, protein molecules exist as doubly charged or as a dipolar ion, also called as "zwitter ion" (Figure 4). They can function as either acids or bases. The substrate which exhibits such dual behavior is called as "amphoteric".
The basic group which constitutes most of the positive charge of the protein (with substituted – NH3+ group) is present in amino acids – lysine, histidine, and arginine. The –COOH group of glutamic acid, aspartic acid, and –OH group of tyrosine and serine are responsible for giving proteins their negative charge. At the pH value above the isoelectric point, groups that are basic dissociate. Due to this, proteins will readily react with basic dyes such as methylene blue, crystal violet, and basic fuchsin.
But at a pH below the isoelectric point, both the amino (-NH3+) and carboxyl (-COOH) groups are protonated and thus proteins react with acidic dyes such as orange G, eosin, and aniline blue. The intensity of staining with basic or acidic dye correlates with the degree of acidity or alkalinity of the medium because when more acidic or basic groups dissociate, more dye will be bound to the salt bridge.
STAIN BROMOPHENOL BLUE:
Bromophenol blue is an acidic dye of sulphonaphthalene series. It is also used as a pH indicator because, at an acidic pH, it is yellow in color but turns blue in an alkaline medium. Since the stain is prepared in mercuric chloride, it is known as mercuric bromophenol blue (Figure 1). Therefore, in an acidic medium (i.e. lower pH) which is the isoelectric point of most proteins, basic groups of the constituent amino acids of the proteins dissociate and combine with bromophenol blue and impart its blue color. Hence, the proteins get stained in blue upon treatment.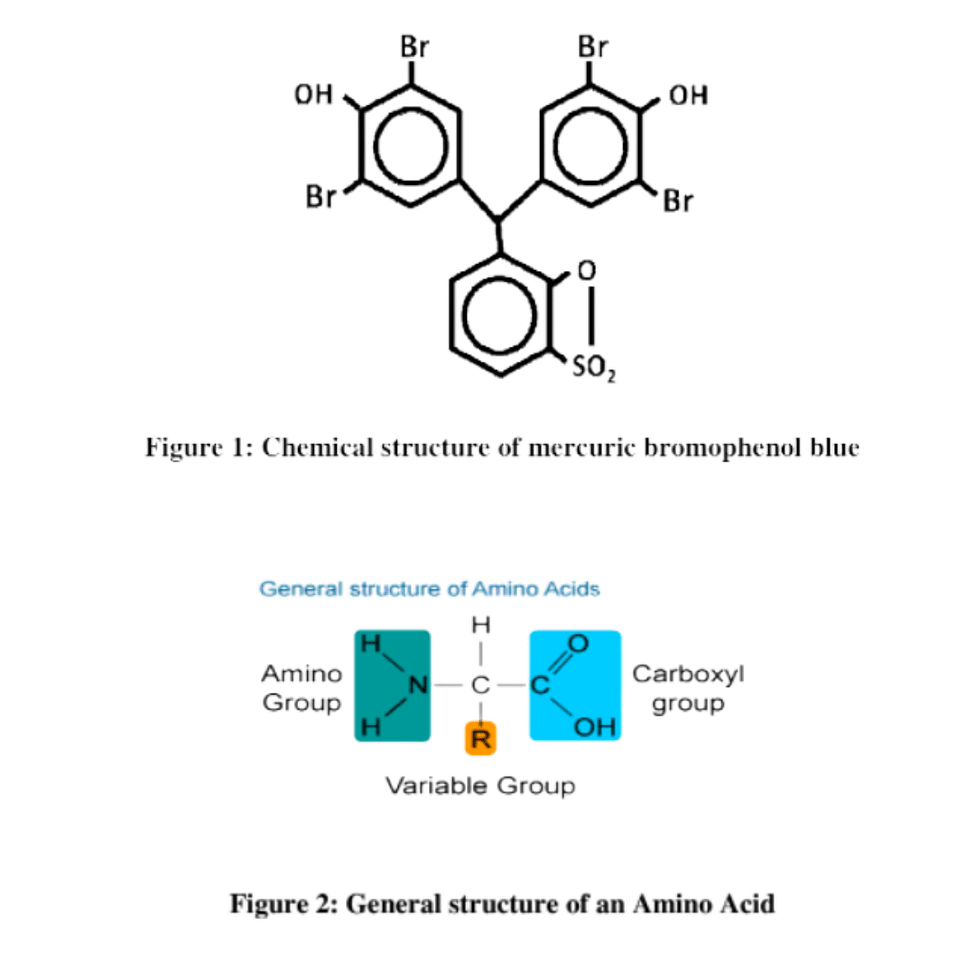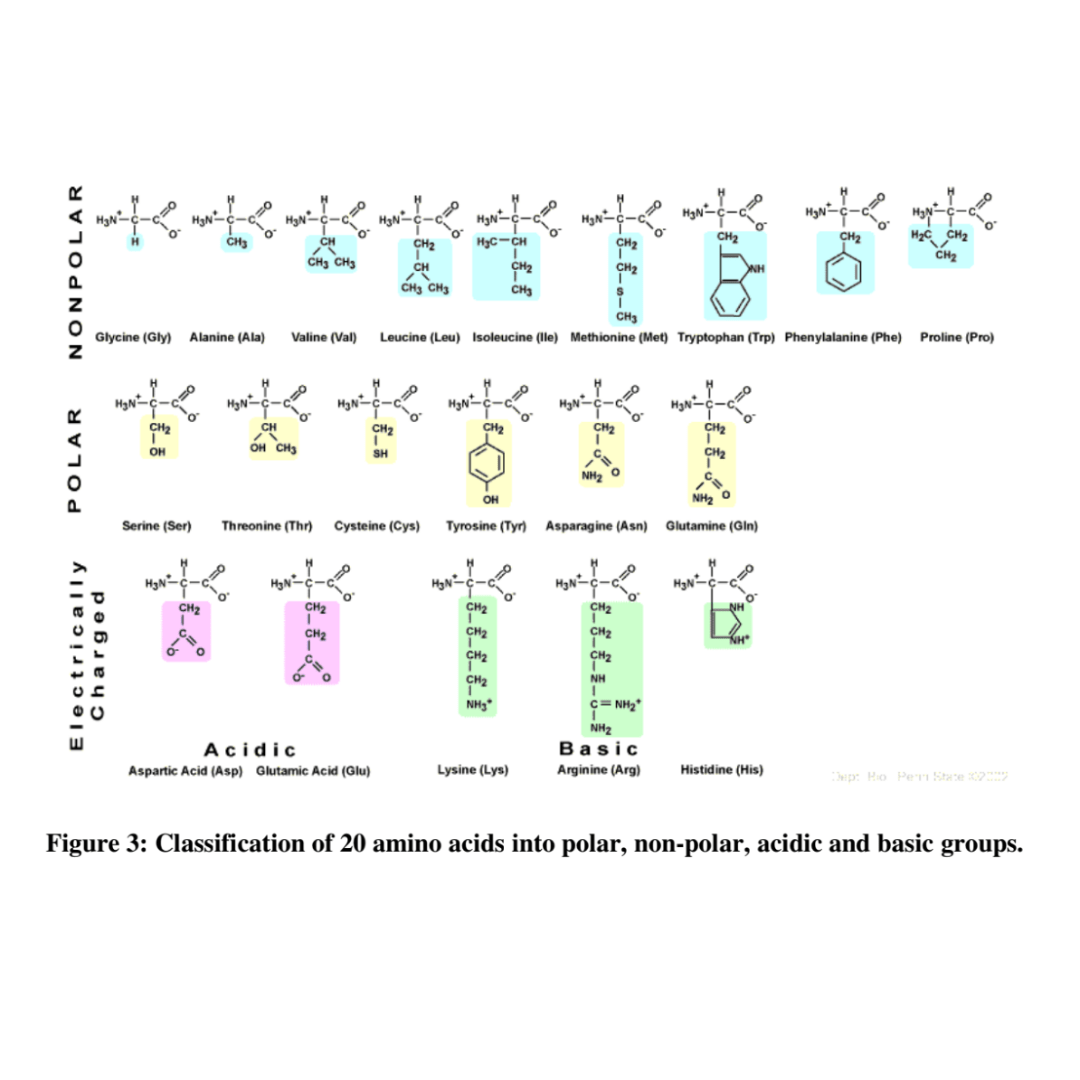 PROCEDURE
Fixation: Rinse your mouth well with water and prepare a smear of squamous epithelial cells from the inner side of the cheek with the help of a toothpick.
Add Carnoy's fixative and let it evaporate completely.
Keep the fixed slides in distilled water for at least 20-30 minutes.
Remove from water and let the slide air dry.
Staining: Put the slides in Mercuric bromophenol blue stain for 35-40 minutes.
Remove from stain and rinse well in tap water. Air-dry the slide.
Observe under a compound microscope at 10X magnification for the cytochemical staining.
Dehydration: Dehydrate in increasing grades of alcohol i.e. from 30% to absolute alcohol with 2-3 minutes in each grade OR dehydrate completely in butanol.
Treat with two washes of xylene for 2 min (clearing agent)[If it still turns milky, go back to the previous step and dehydrate again].
Mount in DPX, dry, and observe under the microscope.
OBSERVATION
When the slide is observed under the microscope at 10X, the nucleus and cytoplasm are found to be stained in blue color (Figure 5).
DISCUSSION
Write yourself. Discuss the result and your observation here.
Below Figure :- Squamous epithelial cells (from the inner side of the cheek) showing cytochemical
staining of total proteins (blue color) by mercuric bromophenol blue.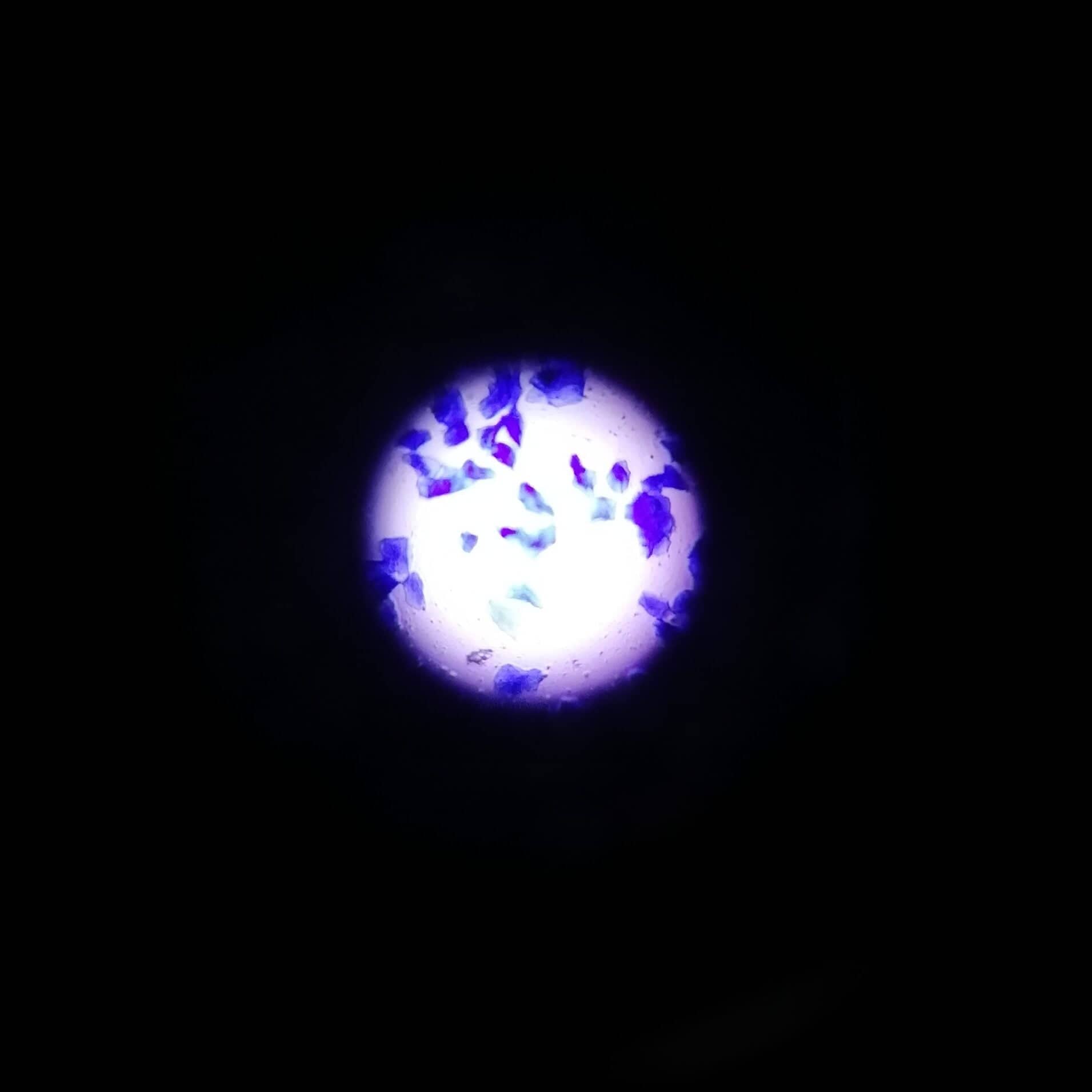 PRECAUTIONS
Washing of slides in distilled water prior to staining. This is important because the fixative may interfere with the reaction.
The color of the stain should be reddish-orange.
If the color appears changed, do not use the stain.
Therefore, prepare the stain afresh prior to use.
Also Read
Conclusion
Now today you had known about CYTOCHEMICAL DEMONSTRATION OF TOTAL PROTEINS BY MERCURIC BROMOPHENOL BLUE. If You Liked this article then share it with your friends and loved ones.