Best Android Apps For 2022:- Welcome back to yet another episode of the Best Android Apps For 2022 series. And today in this article, I am going to tell you about one amazing wallpaper app, one game, and six amazing apps which you should try this year in 2022. So keep your phone ready and without any further delay let's start with the first "Best Android Apps For 2022".
Gesture
And the first app in our list is "Gesture" which ideally helps you to simplify tasks. And when I say task it includes opening an app enabling or designing a function like Wi-Fi or Bluetooth or even you can make a call with a simple gesture. This is one of the "Best Android Apps For 2022"
In short, gestures help you to automate several functions on your phone. So once the installation is done provide the drawing permission to this app. Now from the other setting select whether you want floating button mode or normal mode, where you can access the app by drawing the home button.

Now go to manage gesture and once you click on add it will ask you to create a gesture and if you draw a letter "W" and name this WhatsApp You're going to assign the word "W" for WhatsApp.
Now from the available list go to launch the app and from the list select WhatsApp that's all we have done with the settings. Now, whenever you draw the word "W" it will automatically open WhatsApp.
Now, this app is not only limited to apps but you can also find several other options as well like direct call, open a web link, on and off your Wi-Fi, Bluetooth, flashlight, internet connection, volume controls, and much more features are getting added in every release.
You just need to think about how you can use this app to automate several functions on your phone, and the best part of this app is that it is totally free and you will not find any ads in the UI so definitely check this out.
Do Multiple Accounts
These days all mobile phone manufacturers allow you to create a dual or clone of an application by default. But if you are still looking to create multiple clones of an application then you must try the "Do Multiple Accounts" application.
The app is very easy to use, so once you install and open the app it will ask you to select the app for which you want to create a clone. You can select an app as many times you want and it will keep creating clones for that application.
For example, If you have chosen WhatsApp and clicked on "Clone With Do Multiple Space". Then You'll see a clone of WhatsApp is created and if You again click on the plus symbol and select WhatsApp you'll see two clones will be created for WhatsApp.
Now when you open these apps they will be named as whatsapp1 and whatsapp2 and so on. So if you want to create multiple clones of your apps then this is the app for you.
Currently, this app will not work if you are using Android 12 but it will get fixed soon. Simply you can say that this is one of the "Best Android Apps For 2022", in our list.
Image Compressor Lite
Now, these days cameras of our mobile phones are very powerful and whatever picture we click from it is more than two to three MB in size. Now when you try to upload these photos on any website or social media app you might have seen an error message saying "you cannot upload as the size of the file is too large".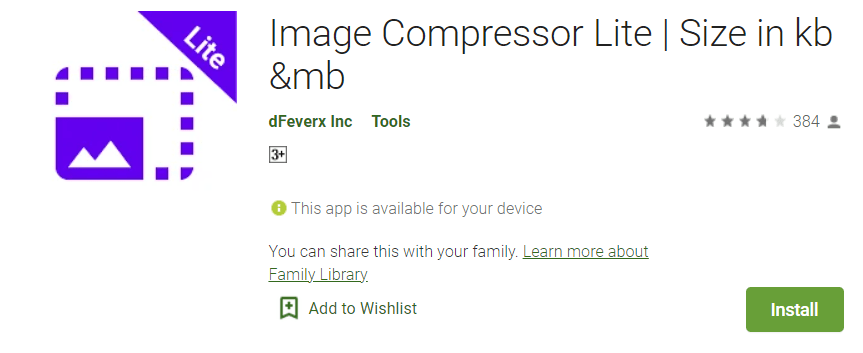 Now to avoid such situations you will compress the photo which will reduce the size of the Photo but also reduce the quality of your picture.
Now if you want to compress a photo without compromising its quality you must try "Image Compressor lite". So once you install and open the app you just have to tap on this screen to select the path from where you want to choose the photo.
Now, Select that photo, you'll find you have the option to update the value in KB to compress the photo. And there you will update some value and click on convert now. Now you'll see that the image is compressed with the same size that you have updated it initially and saved as a new file with a different name.
Now when you compare the compressed one with the original photo you will find a negligible difference in the quality of the image. The size of this app is very small and comes without any ads which makes it a good user experience to the users. You must have this tool in your phone. This is one of the "Best Android Apps For 2022".
4D Digital Clock Live Wallpaper
And the next "Best Android Apps For 2022" in our list is "4D Digital Clock Live Wallpaper" app. This is one of the fantastic apps which I have recently found on Playstore. And one of the best options for those who are looking for all different kinds of formats of wallpaper in a single app.

The unique feature of this app is its 4d wallpapers which come with an inbuilt watch. This gives a fresh look to your home screen as you can see in the below image. It really looks nice.
And when you open the app you have four different categories of wallpaper that are 4k, 4D, live wallpaper, and gifts.
In the 4k category, you have different genres like space, car, black, and more. You just need to select your favorite wallpaper and apply it.
Now when you move to the 4D section you will find a huge list of 4D wallpapers and a few will have an inbuilt watch that really gives an attractive look to your phone. And if you go with the premium collections you just need to watch an ad to purchase the wallpaper.
Similarly in the other sections like live wallpaper and gift, you will find a really good collection of wallpaper which makes it a must-try app.
Call Lock Screen
The app lock feature in android phones has evolved a lot in the past few years, which allows you to lock a particular app. But these apps always miss to lock your calling functions and if you are one of them who also wants to protect your calling function then you must try "Call Lock Screen".
A very small app that locks your incoming calls and the call can only be picked if you update the password or pattern which you have set for this app.

It also has some additional features as well like setting an incoming call wallpaper and there you have two options first one is a gallery where you can use a picture from your gallery to set as a call wallpaper.
The second one is wallpaper which is available in the app itself. Another feature that you might use is to add a nickname for a private call which enables you to mask a contact name with the updated name in this app, while you receive any call from that person.
And the best part of the App is that it will not make any changes to your main phone contact details.
A good app to secure your privacy in terms of calling features in your phone. Since this app will not take up too much of space in your phone and provide enough privacy for your calling feature without having any ads or without paying a single buck, which makes it one of the "Best Android Apps For 2022".
Radio Garden
Ever fancied listening to pop from Prague rock from Russia and talk from Taiwan, with the pandemic limiting the travel abroad an online app has ignited the imagination of millions allowing them to experience new sounds and travel the globe by radio. The free app radio garden which carries about 10000 of radio stations broadcasting live 24 hours a day.

The concept is simple: you look around a global map and select an area that interests you. When you click on that reason and select a Green dot signifying a radio station the feed will automatically start playing, telling you the name of the station you are listening to and where it is from.
You can listen to stations from all over as far and wide as Sicily from Italy and Texas in the US. The platform gets thousands of submissions every week and has grown its collection of live radio stations from 7000 to more than 30,000.
The app is totally free and comes with very neat and clean user interference which makes it one of the best apps for the music lover and for those who want to roam around the world via a radio station. This app is one of the "Best Android Apps For 2022".
Photo Map
Now coming to the next "Best Android Apps For 2022" is "Photo Map", It is a super impressive application that somehow gives a fresh look to the whole photo gallery concept. So, instead of presenting your photos in a standard gallery view, the photo map showcases them on a world map tagging them exactly on the same location where they have been taken.

The app uses the metadata of each photo saved in your phone to identify the location and implies them on the world map. This app also has different options like a hidden folder which will help you to add or remove a folder from this app, you can also login to your cloud storage where you have saved your photo to sync with this app.
Now under the theme, you have different kinds of the map which you can use if you select the satellite you'll see that the background is now changed.
You can find several other options as well to customize this app it's a really cool concept that allows you to rediscover your photos and video in a super unique way.
My Friend Petro Game
And the last not the least "Best Android Apps For 2022" in our list is "My Friend Petro Game" it is a violent battle about friendship imagination and one man is struggling to kill anyone in his path at the behest of a sentence banana.
The strategic use of split aiming slow motion and the old-style window bridge create one amazing action sequence after another in an explosive battle through the violent underworld. Unleash a torrent of destruction with an incredible level of control over both your weapons and your body, twist and turn through the air while aiming both hands at priority threats or line up perfect control to drop an unexpected gangster from behind.
Break up the high octane running and gunning a bit with a dynamic sequence like a thrilling motorcycle chase or slow it down and take a moment to think through a series of clever physics-based puzzles.
It's a pretty addictive game if you ask me but the control does take time to get used to, the sound effect graphics and animation fit it perfectly with the game's theme.
And the best of this app is, it is not a paid to win the title since there are no cosmetic or upgrade required so definitely try this out if you want something quick and fun. This is also a "Best Android Apps For 2022".
Conclusion
So that was the list of best android apps for 2022.
If you think there are any other apps that would make up this list make sure to comment down below so that everyone.
if you enjoyed this article "Best Android Apps For 2022" share this with your friends and loved ones.
Thanks for reading 📖 this Article i.e. "Best Android Apps For 2022" !!
Also Read
FAQ
Can I Download Apps Without Using Google Play Store?
You Can definitely Download apps without using the google play store, but it is not recommended for anyone to download apps from any third-party platforms. Because from other platforms apps might be corrupted, but on the google play store all apps are verified by Google and they are safe to use for everyone.
How can I Make my Phone Awesome?
In Order to make your phone Awesome Read out the Above Article "Best Android Apps For 2022".
Which Apps are harmful to Android?
Apps that are downloaded and installed from third-party platforms.
Which are the "Best Android Apps For 2022".
Best Android Apps For 2022, it depends upon your choice and interest, and on your needs, according to your needs it may differ, but in the above article i.e. "Best Android Apps For 2022" I had told you about some of the more common and useful "Best Android Apps For 2022"